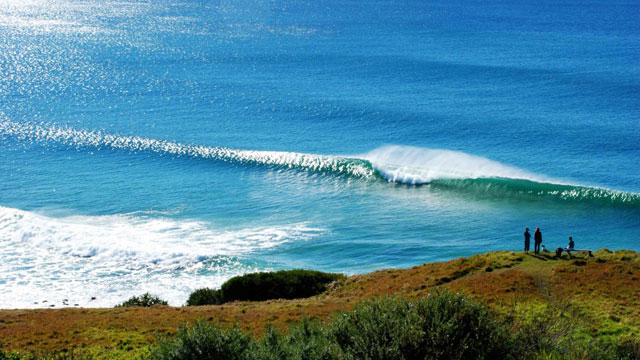 Sometimes we just don't have the surf that we're looking for just around the corner and if you're looking to get your next surfing holiday planned, you've got a lot of choices to consider.
Surfing Holidays for beginners
The best surfing holidays for beginners are usually connected to a surf camp or a surf school where you can learn to surf and get surf lessons whilst making the most of uncrowded breaks and the local hospitality. Surfing for beginners can be a little difficult to begin with so it's important that you choose the right surfing holidays for your needs.
Surfing Holidays for Couples
If you want to choose the best surfing holiday for couples then you have to take your partner into account.  You can't expect to spend 6-7 hours in the water everyday and have your partner just deal with it.  There have to be some activities that will keep the other side of this surfing holiday couple entertained.  These activities are going to depend on whether your partner is male or female, so make sure you have a look at what's available where you're heading.
Surfing Holidays for Families
If you're taking the kids along the best surfing holidays for families are the ones that are going to have some form of day care. I'm sure all parents are aware of the massive differences there can be in day care facilities at your chosen surfing holiday destination.  So have a look at what activities are on offer at your surf resort or surf camp.
Surfing Holidays for Singles
As a single surfer and not as a beginner, your choice of surfing holidays is wide open.  Depending on your desired level of comfort and your surfing ability, you could end up at a surf camp or mapping out your own trail on a surf trip just for you.
Surfing Holidays Destinations
You've got a lot of choice when it comes to surfing holidays and the best destinations.
Mentawai Islands
The Mentawai Islands are not a surfing holiday for beginners and unless your partner surfs too, it's probably not a suitable surfing holiday destination for couples or families.  These breaks can be accessed via charter boat or a limited number of land camps and you'll want to have your skill levels up before booking this one.
Surfing Costa Rica
Costa Rica has a lot of choices for surfing holidays.  As a beginner, couples and families you've got a lot of Costa Rica surf camps available to you and they cater for everything form the 20 somethings party scene to surf camps dedicated to the family experience.
Surfing Bali
As a long time surfing destination, Bali has delivered over many years, but to be honest, the breaks in Bali itself are pretty crowded and dominated by local surfers.  You might want to try a Bali surf camp if you're keen, but to be honest I'd only consider it as surfing holidays for singles ad not as surfing holidays for beginners, couples or families.
Surfing Portugal
Surfing Europe has a lot to offer.  The water temperatures are a little colder but a quality wetsuit has that little issue covered.
Surf Nicaragua
After some of the amazing clips that have come out of the surf in Nicaragua lately, it's easy to see why it's becoming one of the world's top choices for surfing holidays.
Surfing Sri Lanka
It was once a pretty well kept secret, but no longer.  Sri Lanka has a beautiful culture and some amazing breaks.  Certainly not as packed out as some choices of surfing holidays but you won't be alone in the water either.
Surfing France
Once again if you want to surf Europe, France has some of the best breaks that western Europe has on offer.
Surf Morocco
What can we say about Morocco.  It's just not my choice of surfing holiday destination.
Surf Hawaii
Holidays to Hawaii can be breath taking but be prepared for the crowds.  Unlike a lot of other surfing holidays destinations, Hawaii locals at least respect the rules of surfing.  So if you're not an idiot and can actually surf, you got a great choice of world class breaks and even a decent choice of waves for beginners.