Best Price on the Lost RocketI love this board.  If I was going to have a one board quiver, it'd be a hard decision but I think the Lost Rocket would be right up there. This is a well designed surfboard and I don't think you'll find many that would disagree.
The Lost Rocket will surf everything from 1.5ft to 6ft pretty comfortably.  Matt Biolos has really done us all a favour with this board.  He's packed so much versatility into the design and the board just has great performance characteristics.
The Lost Rocket paddles on really, really well but it's volume is distributed very strategically on the board.  You just don't notice it.  It's fast, very fast.and it generates a lot of speed down the line and this comes in really handy when your trying to make a quick section.
Placing pressure on the backfoot will give you a nice tight cutback into the pocket, but whether your pulling big sweeping turns or tight little cutbacks, this board does it all.  I'd have to say the this is one of the best boards I've ever ridden and I haven't heard of anyone who was disappointed when the bought the Lost Rocket.
One word sums up this board… VERSATILE…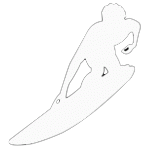 Surfer Skill Level
Suitable for intermediate through to advanced surfers.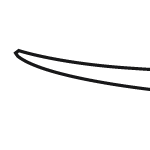 Rocker
Little nose Rocker,a small amount of tail rocker and relatively flat through the body of the board.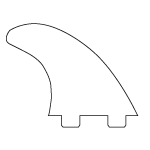 Fin Setup
5 fin setup. Goes really well as a quad but in larger waves you may want to change it over to a thruster.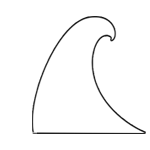 Wave Height
Handles everthing from 1ft - 6ft+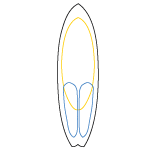 Bottom Concaves
Double concave through the belly of the board form a tri-plave hull. Rails
Full rounded rails through the body. Tapering to a harder rail at the tail.
Lost Rocket Dimensions
| Length | Width | Depth | Volume |
| --- | --- | --- | --- |
| 5'6 | 19.25 | 2.25 | 26.81 |
| 5'7 | 19.38 | 2.32 | 28.36 |
| 5'8 | 19.5 | 2.32 | 29.06 |
| 5'9 | 19.63 | 2.38 | 30.44 |
| 5'10 | 20 | 2.5 | 32.97 |
| 6'0 | 20.25 | 2.56 | 35.24 |
| 6'2 | 20.5 | 2.63 | 37.86 |
| 6'4 | 21 | 2.75 | 41.06 |