Best Price on the Channel Islands Bunny Chow If you've ever watched Jordy Smith surf and wondered, "How does he do that?" Well, most of the answer is that he's an amazing athlete, and in conjunction with that answer is The Channel Islands Bunny Chow. This board is made for dynamic modern surfing in poor to fair conditions. Think you need perfect, glassy ramps to boost huge airs? Not with The Bunny Chow. With The Bunny Chow you can make your own ramps out of the most obscure of windswept sections.
With fuller rails, you can put as much force as you want into your turns. This thing can handle as much power into your carves as you can muster. So no need to hold back wondering if you're rails are going to go too deep and slow you down. Turns on this board are smooth and tight and flow up high and down low.
Even though it was meant for less than ideal surf, The Bunny Chow handles powerful groundswell at overhead beach and reef breaks like a champ. It's a solid tri-fin setup; so get ready for some serious top to bottom surfing and deep foam ball barrels.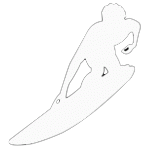 Surfer Skill Level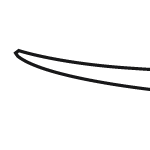 Rocker
A little entry rocker with a healthy amount of exit and fully staged throughout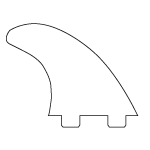 Fin Setup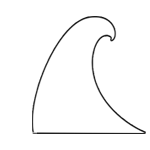 Wave Height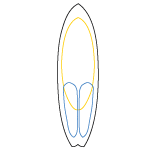 Bottom Concaves
Easy transition from nose to tail Rails
Channel Islands Bunny Chow Dimensions
| Length | Width | Depth | Volume |
| --- | --- | --- | --- |
| 5'4″ | 18 1/4" | 2 1/8" | 22.6l |
| 5'5″ | 18 1/2" | 2 3/16" | 23.9l |
| 5'6″ | 18 1/8" | 2 1/16" | 22.7l |
| 5'7″ | 18 1/4" | 2 1/8" | 23.9l |
| 5'8″ | 18 3/8" | 2 3/16" | 25.1l |
| 5'9″ | 18 5/8" | 2 1/4" | 26.5l |
| 5'10" | 18 7/8" | 2 5/16" | 28l |
| 5'11" | 19" | 2 3/8" | 29.4l |
| 6'0" | 19 1/8" | 2 7/16" | 30.8l |
| 6'1" | 19 1/4" | 2 1/2" | 32.2l |
| 6'2" | 19 1/2" | 2 9/16 | 33.9l |
| 6'3" | 19 5/8" | 2 5/8 | 35.4l |
| 6'4" | 19 3/4" | 2 5/8 | 36.1l |