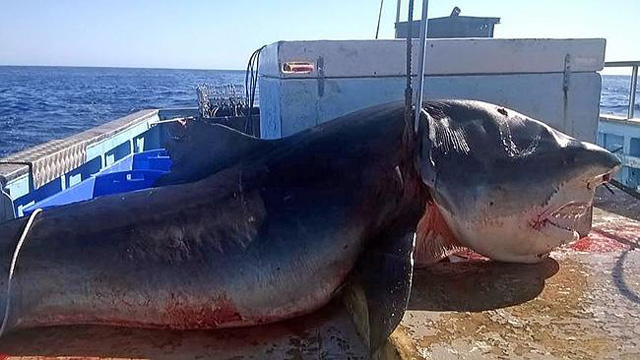 By all reports a massive tiger shark has been caught off Nine Mile Beach near Tweed Heads in Northern New South Wales.
There's a few conflicting reports about when the shark was caught, but a man identifying himself only as "Matthew", called the Northern Star on Tuesday 11.08.2015 and said that he was the man who caught the tiger shark.
According to Matthew, he caught the shark about 3 weeks earlier.  He said he was trying to pull in a 6ft hammerhead shark when the massive tiger shark came up and swallowed the Hammerhead whole.
I was fighting the hammerhead and he came up and swallowed it…

You can't turn around and go no, don't touch, to something like that.
There have been multiple sightings of large sharks in Northern NSW recently and a 52 year old surfer was attacked by a shark at Evans Head.
At a community meeting held on Monday night, around 200 local surfers voted for a limited shark culling program after an unprecedented number of attacks and sightings in the last few months.
The commercial fishing vessel in the photos has been identified by the DPI and no action is being taken as commercial shark fishing is not illegal in the area.  A spokesperson for the DPI said:
This size is not unusual for a tiger shark
I don't know about you guys, but if that's a commonly sized tiger shark, then maybe we need to think about addressing the issue.
A  community initiative has been started to report shark sightings.  You can follow it here.